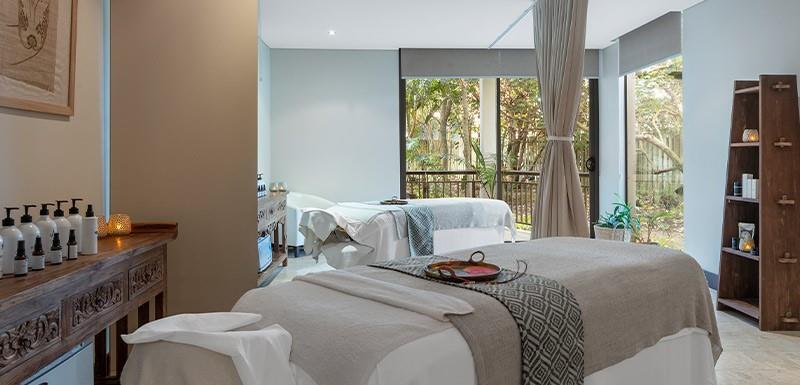 Oaks Casuarina Santai Resort
The wellness spa at Oaks Santai is a haven of relaxation and rejuvenation.

Our luxurious and holistic spa treatments are thoughtfully designed to rebalance the synergy between mind and body and to promote health, vitality and rejuvenation – inside and out.
Your spa journey begins from the moment our highly skilled therapists collect you from our expansive Lanai Pavilion and will leave you feeling vibrantly well long after your treatment is over.
All of our treatments can be enjoyed alone or make use of our beautiful couple's room and share the experience with a loved one.
We warmly welcome LaGaia as our skincare partner. Based on the philosophy of organic unedited beauty and using only the purest and most previous grades of nature's master healers. Proudly an Australian made and owned product range that is scientifically formulated to deliver potency and results with an element of luxury. LaGaia embodies the wellness spa ethos, which is to provide a luxurious and restorative experience to enhance your health and wellbeing and care for our previous environment.
Let us take you on a journey of pure relaxation.
Oaks Casuarina Santai Resort
Oaks Casuarina Santai Resort
Oaks Casuarina Santai Resort
Oaks Casuarina Santai Resort
9 Dianella Drive, Casuarina, NSW, 2486
0266705500
Monday

Tuesday

Wednesday

Thursday

Friday

Saturday

Sunday

10:00am - 4:30pm

10:00am - 4:30pm

10:00am - 4:30pm

10:00am - 4:30pm

10:00am - 4:30pm

10:00am - 4:30pm

10:00am - 4:30pm